Baseboard Register 20" (Brown/Beige)
REGBB20B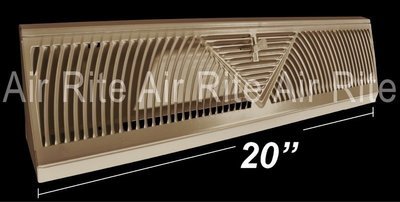 16 & 20 Inch Baseboard Supply
Price :
24.93
USD
In stock
20" baseboard diffusers! Extremely hard to find since original makers have disappeared. Air Rite is proud to offer these steel construction diffusers with removable faceplate for easy installation and cleaning. Use to replace existing 20" diffusers or in new construction, especially where more free area is desired.
Fits 12" x 2 1/2" duct opening. Mounting hardware not included.
See the Product Info Sheet for all dimensions & more information.
Save 15% when ordering a quantity of 10 or more of this item. Discount automatically applied.